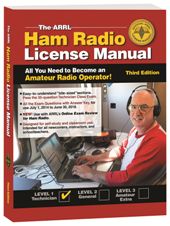 This 4 week (meets twice a week on Tuesday and Thursday) course provides the basics of amateur radio and prepares students for the FCC Amateur Radio Technician Class License. This class maybe attended by those wishing to earn their license and newly licensed amateurs from the recent Ham Cram sessions.
Class starts at 6pm and runs to approx 9pm each Tuesday and Thursday nights with two 15 minute breaks.
REQUIRED COURSEBOOK
The "Ham Radio License Manual" as the official course book and may be purchased with the registration of this class by choosing it on the registration form.
Alternativly You may purchase the book through the ARRL or Amazon.com websites. Links are provided below. The cost for this manual is $29.95. Make sure you get the 3rd edition for use as of July 1st 2014.
ARRL Store or Amazon.com.
LOCATION
Washoe Regional Emergency Operation Center - 5195 Spectrum Blvd, Reno, NV
TIME
Tuesday and Thursday Nights - 6:00pm to 9:00pm
QUESTIONS/CONTACT